Wednesday, November 22, 2017 – Monday, January 15, 2018
Enchanting model trains zip through a display of 150 landmarks, each re-created with bark, leaves, and other natural materials—all under the twinkling glow of the Enid A. Haupt Conservatory. Marvel at G-scale locomotives humming along among familiar sights such as the Brooklyn Bridge, Statue of Liberty, and Rockefeller Center on nearly a half-mile of track. This year's exhibition showcases Midtown Manhattan's iconic skyscrapers and other architectural wonders, featuring new replicas of the Empire State Building, Chrysler Building, General Electric Building, and St. Bartholomew's Church.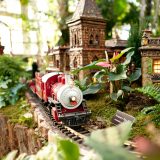 About the Artist & Exhibition
Learn more about the landmarks, trains, and artistry behind 26 years of the
Holiday Train Show®.
LEARN MORE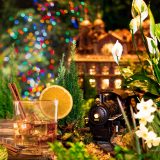 Bar Car Nights
On these nights exclusively for adults 21 and over, a wintry stroll in the festive outdoors with live entertainment sets the mood for an after-dark viewing of the
Holiday Train Show
®.
LEARN MORE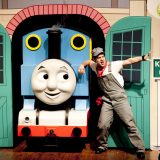 Programs & Events
The
Holiday Train Show
is a Garden-wide event, with music, poetry, tours, and kid-friendly programming for families to enjoy throughout the season. See what's happening during this year's exhibition.
LEARN MORE